7 Business Square, a prestigious corporate complex established by Naiknavare Developers are counted among the finest locations for operating business in Pune. Located at Ganeshkhind Road in Shivajinagar, 7 Business Square ranks high amongst the most coveted commercial spaces in Pune. Top names belonging to diverse industries have chosen this area to set up their offices where they shape their dreams and achieve phenomenal success. A host of reasons govern top companies' decisions to choose a particular site to set up their offices in. Owning business property at a complex like 7 Business Square is designed to make one feel they could not have made a better decision to go beyond their expectations in every sphere that counts.
Impeccable Location for High-End Offices in Shivajinagar 
Located in the heart of Pune, Shivajinagar is regarded as the hub of several industries, educational institutes, cultural centers, and more in the city. Offices of top companies, including the IT industry, operate from Shivajinagar. It boasts of a dense network of transportation routes, which makes it easy for professionals residing nearby as well as in neighborhoods and beyond, to commute easily. Well- organized transportation facilities and infrastructure in the region have certainly played a crucial role in attracting prominent companies as well as professionals to work here. The central location of Shivajinagar, of which Ganeshkhind Road is a part, seemed ideal for an exclusive business complex like 7 Business Square. The developers of this commercial complex showed commendable foresight as they zeroed in on this expanse for this dream project, which has evolved as a leading business hub in Pune.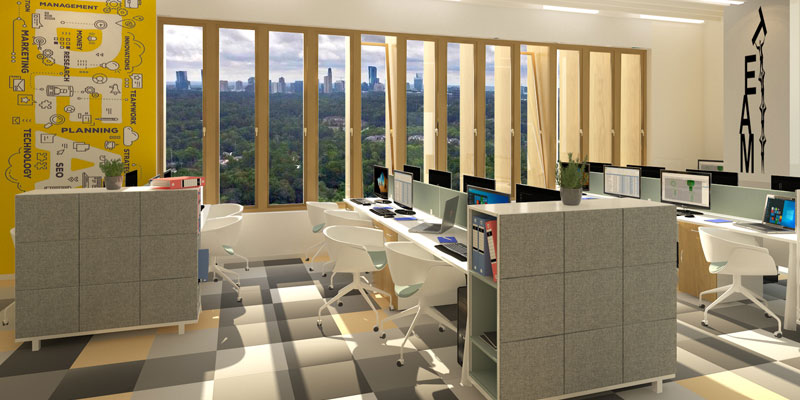 Top Quality Facilities at Offices in Shivajinagar 
Sited at Ganeshkhind Road, 7 Business Square offers unparalleled amenities and world-class stipulations that match the standards of premium business houses. The the complex offers extravagant, open spaces and expertly planned office premises to work prolifically in. Every section of the well planned layout spells luxury and perfection that facilitate boundless efficiency in every aspect. In fact, this property is regarded as the perfect place to raise the bar of your business and earn envious admiration for making a splendid choice by operating there. Whether one considers the aesthetic appeal, security features, or conveniences,
7 Business Square offers amenities that match the best as they include: 
Grand in-house parking
Wooden flooring
Elegantly striking interiors
Landscaped gardens
PV for common zones on the terrace
Portico for retail spaces
100% power backup for business spaces and common areas
AC powerpoint and outdoor units
Inverter arrangement for small offices
Air conditioning in elevators and porch
Intercom connectivity
D2H systems
Wi-Fi in important places
ATM facility
Fire alarms
Smoke detectors
CCTV surveillance
24/7 staffed security
Rainwater harvesting.
Water conservation
Energy management
and more.
The best eco-friendly practices and measures have been adopted by the developers for carrying out  day to-day solid waste management processes at the premises.