The integrated township model in India has taken community living to the next level. These self-sustained gated communities are thoughtfully planned to provide an exemplary lifestyle for homebuyers. Pune is witnessing an increasing demand for such township projects. In fact, there is latent demand for plots of land in these townships. Eagle's Nest from Naiknavare is one such ambitious project in Pune that offers township living as well as plots for sale.  
Vadgaon Maval – The Beautiful location of Eagle's Nest
Nestled in a sprawling area of 15.55 acres, Eagle's Nest is a mind-blowing property located in the serene suburbs in Pune at Vadgaon Maval. Vadgaon Maval offers excellent connectivity to Mumbai and Pune city and lies adjacent to employment hubs. Vadgaon is an emerging residential hotspot of Pune and has caught the attention of many investors.
Sometime Phata, Talegaon Station, and Wadgaon Station lie close by. Social infrastructure is considerably good with healthcare facilities like Pioneer Hospital, Matoshree Hospital, educational institutes like Poddar International School, MIMER Medical College and there are malls and multiplexes nearby. 
Great weekend getaway spots such as Pawna and Take lakes are a few minutes drive and for the adventure-loving, there is an all-night trek to Rajmachi and paragliding near Kamshet. 
Eagle's Nest – The Unconfined Life in Pune
Eagle's Nest at Vadgaon Maval offers plots as well as luxurious 2, 3, 3.5, and 4.5 BHK homes in Pune including row houses, duplex homes, and townhouses.
The project is situated right next to a reserve forest, which is a part of the Sahyadri range in Pune. You get awesome views of the Indrayani Valley. The locality is known for its vibrant greenery as well as connectivity to bustling business hubs.
What you get to enjoy is a vehicle-free, large landscaped garden, multiple fitness and sports options for kids and adults alike, Party lawns and multi-utility halls, a luxurious clubhouse loaded with various activities. Among a host of amenities, there is an amphitheater stage, open water stream Sewage Treatment Plant and facility for water-conservation. The layout, design, and construction quality are best-in-class. Make it your address. 
Owning a plot in a township is advantageous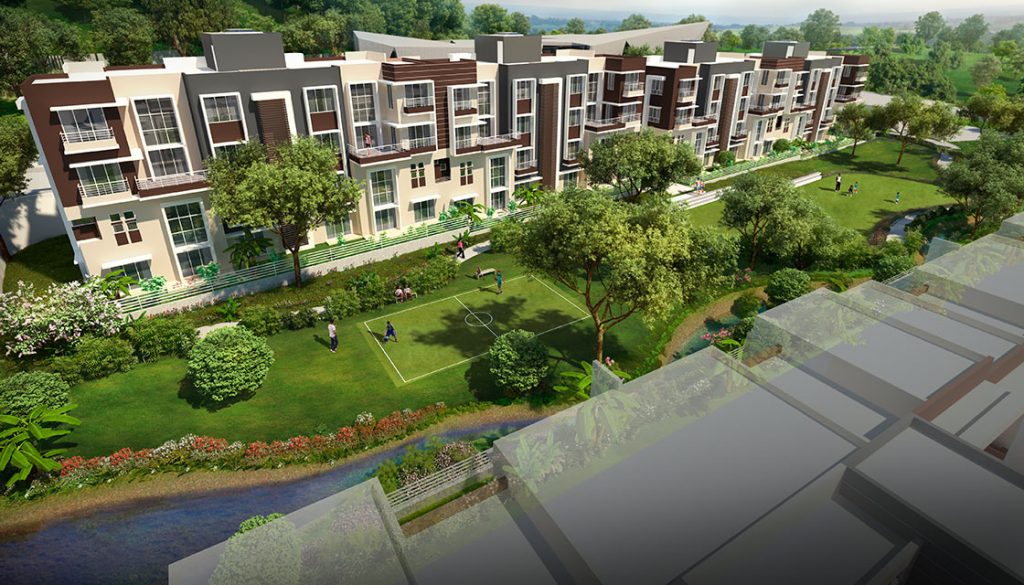 When you are buying the home of your dreams, wouldn't you just love to buy a spacious, airy home, set amid green acres, with excellent infrastructure, and schools, hospitals, or shopping complexes nearby? And what if you could buy a plot of land, design your abode that is amidst the best of amenities that townships offer?
Let us discuss the benefits of owning a plot of land in a township.
One of the biggest advantages of investing in plots of land in an integrated township is that the cost of entry is low compared to owning a piece otherwise. 
As a homeowner we get to work on our own home, from layout to design to interiors, you can style it the way you like it. No superior feeling than having your home done the way you wanted; just as unique as you are!
Besides, living in an integrated township, the buyers enjoy a complete package with common amenities such as clubhouse, party lawns, other sports, and social activities. These townships are developed in a planned arrangement which gives ample consideration to building layouts and green areas and traffic circulations too. 
In a township, there are reserved open and green spaces to ensure proper circulation and natural purification of air.
Eagle's Nest offers all of this and more. Excellent connectivity to Mumbai and Pune, employment hubs, and established social infrastructure are major USPs of the project. There is the availability of ample lifestyle amenities, convenience stores, retail spaces, clubs, and medical facilities in close proximity. From work to entertainment & schools, you have it all conveniently accessible.  
Lush green surroundings invariably attract settlement. At Eagle's Nest the serene surroundings beckon, nature calms the nerves truly making your home a rejuvenating experience. People are now flocking such green suburbs, away from the hustle and bustle of the central business districts, ensuring that the end of a hard working day is peaceful and energizing. 
So if you're not planning to shift somewhere immediately, you must consider buying a plot. And what better than Eagle's Nest!