The earthy aroma after a spell of rain, the gentle breeze passing by and the freshness in the air; don't we all wait for monsoons to arrive? Monsoons are beautiful; tea, coffee with hot bhajias, view of beautiful rain drops dripping down the window panes is priceless! But wait, monsoons come with a set of terms and conditions. Home maintenance requires utmost attention during the Monsoon season.
Let us have a look at a few tips for home care, home cleaning and home decor for the rainy season.
Home Care Tips
Repair-Work:

Before the monsoons hit, ensure to get all home repair done to avoid leakages. Damaged roofs also lead to water seepage leaving patches on the wall on the first pour itself. Leakages can damage your household stuff like wallpaper, electronic items, crockery etc.

Check for requirement of Termite Treatment:

The dampening of walls during rains causes damage to furniture eventually causing termites. Get your home tested for termites; use termite control sprays even if a single termite is spotted. In case there is wooden flooring, the floor can be waxed (to absorb moisture).

If you are planning to get your house white washed, use

waterproof paints.

A thorough check is required for the electrical grounding system. Make sure to properly cover the joints and ensure quality wires for the household electrical items.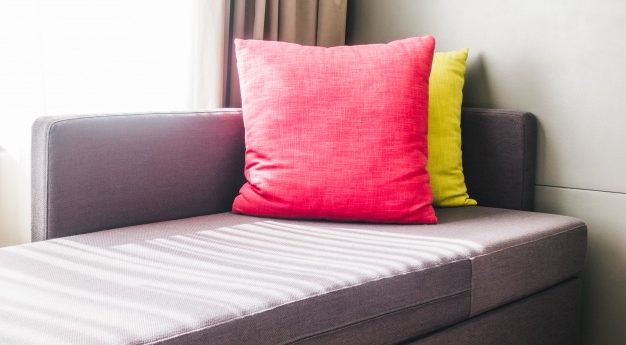 Home Decor for Monsoon:
Store away rugs and carpets. They may get spoilt due to moisture and become smelly. 

Avoid heavy drapes. They are difficult to dry, if they get wet.

Picking out upholstery and fabric that is mildew-resistant, and mould-resistant is of utmost importance during this season. 

Use neutral or brown coloured mats that camouflage mud stains.

Avoid the gloominess of the weather by using colourful things like cushions and bedspreads in your décor.

During the monsoon season, wood tends to swell up due to moisture accumulation. As a preventive measure, you may varnish the doors/furniture before the onset of monsoon. It prevents moisture from entering the material. 

Move your fragile garden plants indoors and those that require less water for their growth. Water the plants only after checking the soil else they will rot. Plants are prone to worm and bug infestation during this season, so spray them with pesticide as soon as you see any sign of it.
Home Cleaning for Monsoons:
It is best to have

non-slip door mats

at the entrance for safety and cleanliness.

Proper Ventilation

of the house is an absolute must. The air inside the house is moist, which is a catalyst for the growth of mould and fungus. Cross ventilation helps to keep the humidity levels within the home in check, which can help to get rid of the musty smell. Keep the windows and doors open at least for a couple of hours every day to help in improving the airflow indoors.

You may even spread Silica gel powders in cupboards

and drawers to absorb moisture. If silica gel isn't available, a simple alternative for it would be neem leaves. Spread a few leaves in your cupboard to avoid smelly clothes and use a layer of paper to avoid neem leaves contacting the clothes.

Keep the bathroom clean and dry

: During the rainy season, the bathroom can feel musty and stuffy simply because of the moisture and humidity in the air. It's essential to keep the bathroom floor clean and dry after a shower, leaving windows and doors open to allow for proper circulation of air. 

Prevent insect infestation

: The monsoons birth a warm, humid environment that is ideal for insects to thrive. Ensure cleaner, pest controlled surroundings for a better monsoon experience.
Monsoons are beautiful; enjoy them without worries with our handy guide for home maintenance. Welcome the showers with open arms!