When purchasing a property it is not just the design and appearance that counts. The geographic location is just as important, as it contributes to the sense of well-being you experience once you've moved in. There is a constantly increasing demand for apartments in beach towns. 
Esmeralda from Naiknavare is a luxury apartment in Goa that offers 2 & 3 BHK homes in Goa and some of the best Condos in Goa too. These sumptuous spaces give you breathtaking skyline views and are the perfect place to unwind with family or friends. The lifestyle and relaxed atmosphere that is associated with living in a beach-town make these apartments extremely appealing. True to its name Esmeralda which means 'Green', 30% of the total area is green. Spread across 3.2 acres, there are 9 towers and 1, 2, 3-bed condos customized to give you a luxurious living amidst nature.
Why invest in Esmeralda?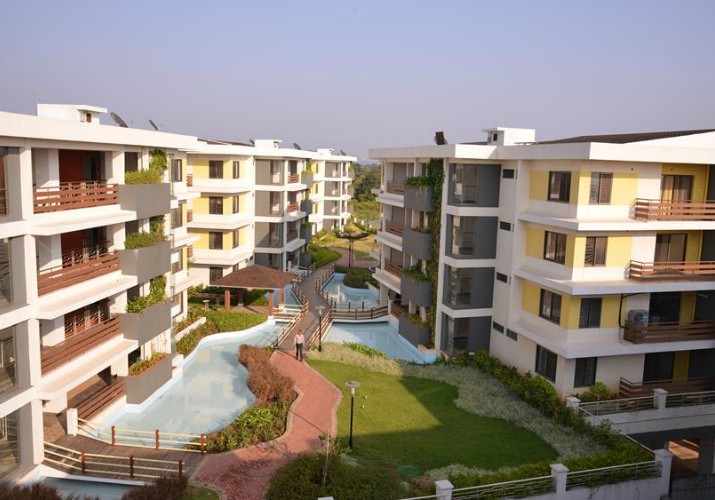 Imagine waking up each morning to the majestic sight of the Mandovi river and lush green environs and the star-filled sky each evening. It's the beauty of nature you see extending before your very eyes, there for you to contemplate at your leisure! You also get to enjoy and admire all-encompassing panoramic views from your apartment. 
Secure Investment / High ROI
Beach town apartments make for an ideal setting for luxury apartments. With financing solutions now much more widely available, these up-market properties are within everyone's reach. Putting your money in bricks and mortar in the shape of an apartment near the sea is undeniably a sound investment. 
Apartments near the beachside will generally have higher resale value when compared to other types of property. In fact, they hold a more stable value even when the property market is more volatile or unpredictable making it a secure investment.
Properties near beaches are highly sought after. They are often much easier to find tenants to rent There is also the potential to increase your earnings by renting out to short-stay holidaymakers. The only downside of this is that you will need a management company and you will need to furnish the property, but with the inflated prices that can be charged for short stays, it can be well worth it in the end.
Holiday Destination/ Second Home
With rising incomes having a second home is a sought-after investment decision. What better than having a second home in Goa. You get to enjoy the invigorating seaside air for free. If you keep frequenting Goa, having a home will save you a lot of money too!
Beautiful natural setting
There are so many people willing to pay generously for a break in a beach town, even if it's only for a weekend. Imagine your own home in this setting! Open your window wide each morning and treat yourself to a breath of fresh air. This will give you a boost for the rest of the day. Same when you get back exhausted in the evening, take a deep breath and allow the magic to work its wonders.
Owning property in a beach town allows you to live the easy-going beach bum lifestyle that many people crave. The sea breeze, the crashing ocean, salty air, and easy access to the beach whenever you feel like it sounds almost like a permanent holiday. Not to mention that the beach provides endless entertainment for the kids and you will always have something to do when you have guests or visitors.
If you frequently visit Goa, Esmeralda is where your second home should be. Make the ultimate lifestyle statement, today!