A coffee table book titled 'The Real Estate Icons of Pune' was unveiled at a dazzling ceremony organized by the Times Group at Ritz, Carlton, Pune. The CTB marks the remarkable contributions of some eminent builders in Pune. The event was recently organized to recognize top real estate builders & developers in Pune. Naiknavare Developers made a strong presence at this prestigious event, represented by Anand Naiknavare, Ranjit Naiknavare, and Hemant Naiknavare. It was moment of cheer and pride when Ranjit and Hemant Niknavare were felicitated at the glittering ceremony.
The Chief Guest at the book launch was Mangal Prabhat Lodha, Minister of Skill Development and Entrepreneurship, Maharashtra. In his inspiring address, he said, "I had a humble journey like most developers and was able to rise higher through hard work." He shared his success mantras with the attendees, "The most important rules that aided to my success are: Never be afraid of anyone, never lose hope, always think big, dream big and work hard to convert it into reality. "
He also emphasized that creativity is critical to business success and that if a project is creative and well-managed, nothing can stop it. He stressed the need to plan ahead of time and think of obstacles one may face in the project.
Neha Dhupia, an Indian actor was the celebrity guest at the event. Congratulating the realtors she said, "The developers don't just provide homes, they also give us safety, security, and comfort. Their hard work results in making homes available for people and comforting society."
The dignitaries expressed their views to the audience post receiving their momentos. Explaining the importance of real estate, Anand Naiknavare, head of the business process at Naiknavare Developers said, "Real Estate is like a cruise that is meant to give people comfort and safety. It is an important aspect in the journey of our life."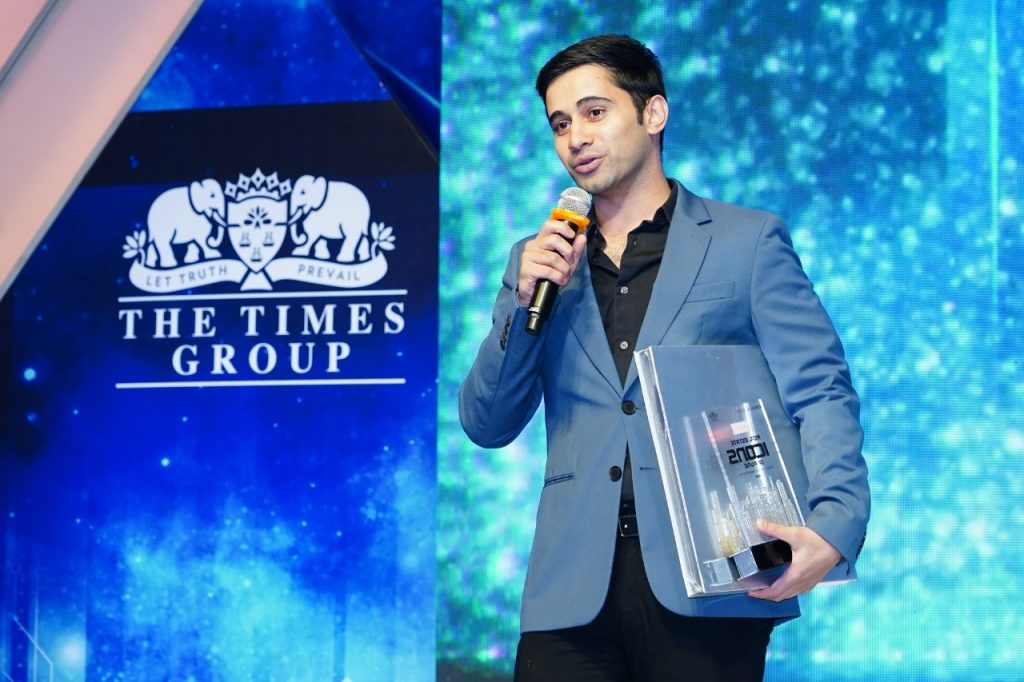 The dignified awardees appreciated the Times Group for organizing this event. Many expressed how such events motivate and encourage developers and how recognition plays a key role in making them raise the bar higher and higher.
Amongst the awardees and attendees were top Pune builders-Atul Chordia, Charman Panchshil Realty; Rohit Gera, M.D. Gera Development; Sachin Bhandari, (CEO), Kajal Shah AVP Marketing, VTP Realty; Amit Paranjape from Paranjape Schemes Constructions Ltd.; Aniruddha Deshpande, MD, City Corporation Ltd; Rajeshkumar Sakla, CMD Siddhivinayak Groups; Ravindra Sakla,  Chairman Raviraj Realty; Ishaan Magar from Magarpatta Township Development and Construction Company Ltd; Kirankumar Devi ED Goel Ganga Group; Roshan Ara, Marketing Head, Pride World City; Vikram Palesha, Chairman, Onyx Realty; Amol Ravetkar, RAvetkar Group; Nilesh Agarwal,  Chairman, Excella; Pooja Bhagwat GM Sales & Marketing Rohan Builders; Moti Punjabi, MD Rama Group; Amit Modgi, Director Sales & Marketing Venkatesh Buildcon.
With a legacy since 1986, Naiknavare Developers have significantly contributed to the changing skyline of Pune. These recognitions add renewed vigor to the company's mission of setting new benchmarks in quality, customer centricity, engineering, business ethics, and transparency. To be one of the real estate icons of Pune only reinforces and establishes their goodwill and reputation in the city- a truly deserved recognition!
For a real estate investor, there is no dearth of real estate properties in Pune to choose from. This coffee table book would surely guide them to pick projects from reliable and reputed builders.