Pune is a buzzing real estate investment hub in India. The city offers a cosmopolitan setup, thriving engineering, automobile, education, IT sectors and good weather conditions. For these reasons more home buyers are now considering the city as a viable and lucrative place for investing in realty spaces.
With the employment opportunities growing day by day, Pune is offering commercial properties at enviable rates when compared to its neighbour Mumbai.
The location of a commercial property plays a pivotal role in the success of any business. Pune has no dearth of good locations to choose from. Shivajinagar is a prime location that enjoys ample opportunities for both residential and commercial options.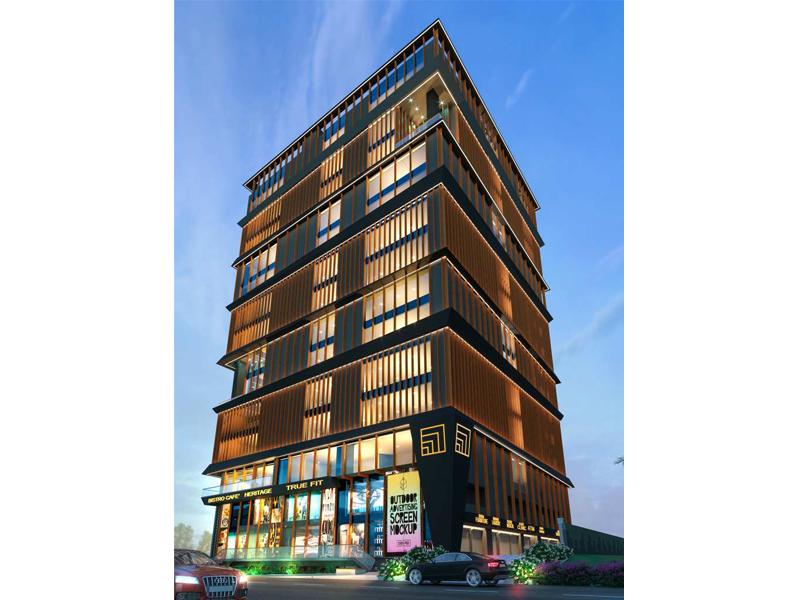 7 Business Square from Naiknavare Group is a premium commercial project that offers plush options for offices in Shivajinagar. Described as 'a vision of passion', these Offices & Retail Spaces on Ganesh Khind Road Pune are an enviable address for your business.
The acclaimed Gold Standard boutique offices provide a best-in-class working environment for commercial enterprises.
So, what makes 7 Business Square unique and why must you book a space here?
---
Read more - These Office Spaces in Pune near Shivajinagar can Boost your Business
---
The USPs of 7 Business Square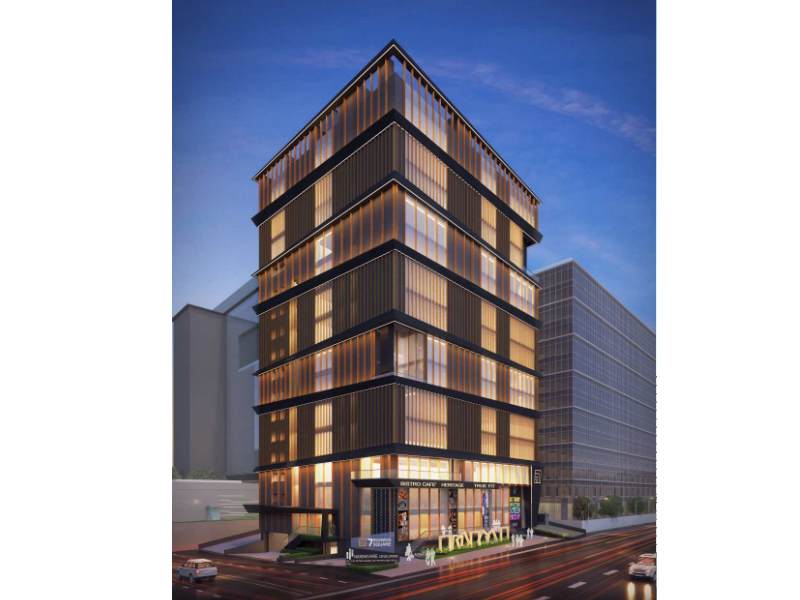 7 Business Square comes up on a plot-size of 2,095 square meters, relatively smaller in size. However its design more than makes up for it and it never feels cramped. Every inch of available space has been optimally utilized by the architects. The spaces range from 767 to 1772 sqft. There are two segments of the project: Primus & Magnus. Primus is smart in size: from 767 to 998 sqft carpet area, ideal for young set ups. Magnus, on the other hand, offers opulent spaces for businesses with grand and lavish vision. These spaces range from 1118 sq.ft to 1772 sq.ft carpet area.
The building has a unique architecture. It has horizontal bands and vertical fins on the sides that serve as solar shades. This design promises optimal thermal conditions, daylight, acoustics, air circulation, and fire safety. Much weightage has been accorded to ventilation and lighting, and overall aesthetics. Moreover, every workspace has been equipped with the latest technology.
The 'Gold Standard' office spaces enjoy an air-conditioned main lobby with marble finish. The building's strategic entry points allow for seamless movement without causing obstructions to the building's occupants. Brownie points there! There are ample green spaces with elegant lighting.
7 Business Square is an IGBC-certified green building. Along with sustainable luxury there is provision for energy conservation too! The plumbing efficiency saves 30-50% of water. The structure meets all safety norms and certifications. The overall energy consumption at this project is reduced by a 10kW solar generation system.
You get excellent scenic views of the Agricultural College just across the road. Despite its busy location, you may step out from your office to soak your eyes into the greenery around.
7 Business Square is located in Shivajinagar, a posh location perfect for business, located in the heart of Pune city. The location and its neighborhood have no dearth of residential projects which promises a sure-shot footfall for any business venture. It lies next to Central Mall on the Pune University road and is just a kilometer away from Shivajinagar Metro Station.
Perfect Set up for Commercial units: These offices & retail Spaces on Ganeshkhind Road Pune offer a host of amenities for the staff in the offices. There is 3-level underground parking which includes provision for mechanical car parks and valet parking too. There are Concierge Services available for these office and retail spaces.
---
Must check - Get the Best Facilities for Your Business at these Office Spaces in Pune
---
For recreation purposes, there is a Café Bar with Lounge Sitting and Self-Help Pantry. This is Pune's first commercial complex with a rooftop lounge. For those who are always on the move, there are charging booths, Wi-Fi at designated places. There is the facility of 100% power back-up for all common areas and business centers, air conditioning in the lobby and elevators.
There is a separate Cigar Lounge. Like prominent commercial complexes, there is an ATM, a vending machine, and a D2H system. There is a Yoga & Meditation zone in the complex which would be a big draw for 7 Business Square.
There is housekeeping staff for the building maintenance managed by the famous group JLL. For the safety and security of the retail & office spaces here, there is Smart Card Access, CCTV Surveillance, 24/7 Manned Security, Fire Alarms, Fire Rated Doors, and Smoke Detectors. Overall the complex will provide a conducive work environment for the shop and office owners here. The strategic location of Shivajinagar would pull great crowds for the retail spaces.
High ROI – From Rentals and Property Appreciation: Given its strategic location and the fact that the IT sector in Pune is growing exponentially, these factors will boost the rentals and the overall property prices of offices and retail spaces at Ganeshkhind Road Pune. At present the rentals here are almost a whopping 3x, too good to begin with!
Shivajinagar enjoys excellent social/ civic infrastructure. It possesses excellent healthcare facilities, hospitals, and medical infrastructure as well. This increases the saleability of commercial residential spaces here.
Most importantly, 7 Business Square comes from the house of the well-known builder Naiknavare Developers Pvt. Ltd. The group is a known name in the real estate circles of Pune for their quality and timely delivery of projects.
Pune is experiencing a huge influx of IT professionals and students from different parts of India and abroad. This envisages the need for more and more commercial complexes in the city. If you are looking to buy a premium office or retail space in Pune offering world-class amenities, book your space in 7 Business Square now!