Buying a new home is a lifetime decision for most of us. The Pune real estate market is witnessing increasing demand from the middle income and high middle-income segments of the society with the preferred choice of 2.5 or 2 BHK apartments. With nuclear families on the rise, parents visiting children in a different city, a configuration of 2.5 BHK works best. It is a  great option to choose a 2.5 BHK flat in Balewadi, Pune.
In times where cities are congested and dwelling spaces are becoming smaller. To make the most of the available space, the concept of half bedroom is gaining significance.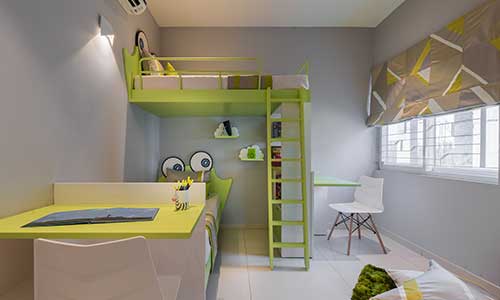 How is the 0.5 room changing the Home Buying scenario in Pune?
A half bedroom is a utility room that does not include an attached bathroom and might or might not have windows or other amenities common in a bedroom. However, since luxury homes have the option of a half bedroom, room sizes may increase.
Space for More

– The general outlook for buying a home is for nothing less than 10 years. In these years the family grows, there's more socializing then. This calls for some separate space for occasional guests. This extra room comes handy.

Budget Factor:

For the price of 2 BHK (a little more), your 2.5 BHK will give you the feel of an extra room, a 3 BHK when required. In fact, you can even keep a sofa cum bed which you may unfold for occasional guests.

Growing Family:

Getting a 1 BHK apartment might sound good enough for just two people, but will certainly feel cramped when the family grows. Thus, 2BHK or 2.5 BHK apartments become the obvious minimum choice.

Affordable Investment:

Investments are done keeping in mind the available resources. A 3 BHK flat sounds like a large space, but with the modern nuclear families, opting for a 3 BHK apartment might just turn out to be an excess of space. 2 BHK apartments are cozy and offer optimum utilization of the space. With additional room, there is always more scope for storage or other utilities.

Play/Study Room:

With kids, space is always an issue. You can utilize the extra room like a kid's room or study room. You can keep a bunk bed for them and use wall-mounted tables.

Pooja Room:

If you are religious you may use this space as a Pooja room. This may also be used as a room for meditation purposes.

Home Office:

You can keep a small table & chair and use it as your office. In these times of Work-From-Home, this space will have the best utilization this way. 
Here is a real estate project in Pune offering 2.5 BHK flats in Balewadi in Pune – Avon Vista. The flat owners here get a magnificent view of the lush greens and the river. Whether in the Gym, flat balcony, or the swimming pool, you overlook the beautiful river at all times. It is spread across 6.5 acres of land and offers 6 towers with spacious flats.
These 2.5 BHK Flats in Balewadi lie close to Wakad bridge, Mumbai-Pune Expressway, and Hinjewadi IT Park offering excellent social infrastructure with the best of educational and recreational facilities. 
The space for movement is traffic-free. The flats have been designed to provide excellent ventilation and sunlight. The project offers best-in-class amenities such as a clubhouse, skating rink, yoga lawn, landscaped podium gardens, tennis, futsal court, infinity pool, etc. 
So, for anyone who is considering to buy a new apartment, the smartest option is to invest in a 2.5 BHK apartment, even if the person is single at the moment. It will offer you better expandability along with the better resale value in the future if required. Avon Vista offers you magnificent homes in Pune. Check them out!