Pune is a bustling commercial and real estate hub. Pune suburbs like Talegaon offer affordable housing projects along with good connectivity to metros like Mumbai and Pune. Quite a few developers offer 1 & 2 BHK flats in Talegaon that will surely not make a dent in your pocket. Let us explore one such project today – Neelaya by Naiknavare Developers. 
Neelaya
Aptly named, Neelaya or 'home', the project offers breathtaking views. This project is being developed by Naiknavare Developers who have been in the industry since 1987. The project located on the highway is spread across 3.5 acres with 3 towers comprising of 12 storeys each. These are 420 apartments in 1 & 2BHK configurations along with 22 commercial units.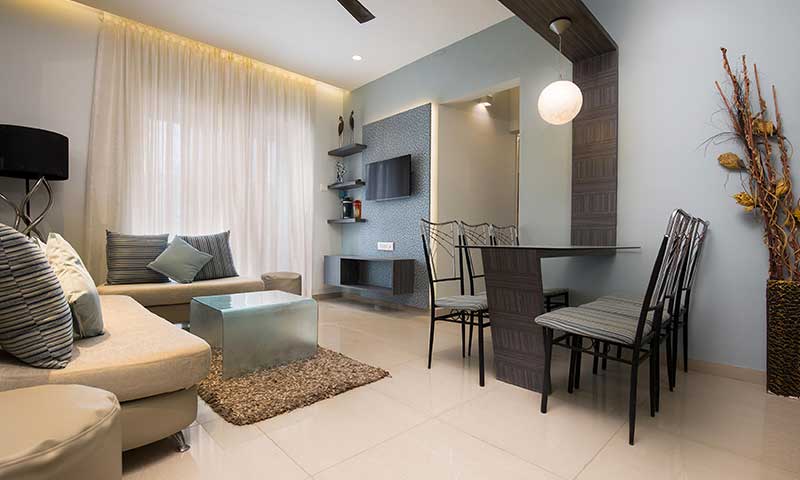 Key Highlights of the Project in Talegaon
New idea of luxury: 1-BHK with 2 bathrooms
The 1BHK flats in Talegaon are comfort homes but they boast about two bathrooms. The rationale behind this is that the buyers who are moving into 1 BHKs are mostly first-time residents of buildings and are used to common toilets. Two bathrooms will offer privacy and next-level luxury. 
The idea behind giving 2 bathrooms in a 1 BHK is to allow 3-4 member families to live comfortably. Utilizing space to its best ability, gives necessary features that can enhance one's lifestyle.
A house is not just a building. It is a home, a place that shelters and protects its occupants. For years, the middle class has been squeezed as the rich get richer and the poor get poorer. The cost to purchase house has become less affordable for millions of Indians. Affordable housing has become a necessity now. Over the past decade, the availability of affordable housing has plummeted.
True to its vision, 'Not just better housing ..but better living for all…', Naiknavare Developers address this demand. With basic amenities in place, these affordable flats will surely improve the quality of life of its residents. 
Talegaon Dabhade Bus Stop is 2.5 km, Talegaon Railway Station is 2.6 km, Mumbai-Pune Expressway is 3 km.
This is another prime factor in favour of buying the property. Situated at the strategic Pune-Mumbai highway at Talegaon, the project offers excellent connectivity. So being away from city chaos does not mean you are far from the city.
Proximity to Social Conveniences:
Educational Institutions & Schools like Podar International School – 2.5 km, Empros International School – 1.0 km, Mamasaheb Khandge English School – 2.0 km, Nutan Maharashtra Institute of Engineering and Technology – 2.7 km, Dr. D.Y. Patil College of Engineering – 7 km
A recreational facility like MCA Pune International Cricket Stadium is 7 km, Sevadham Hospital is 2.5 km, Morya Specialty Hospital is 1.2 km Pawar Hospital is 3.2 km.
Amenities play a crucial role when buyers select properties. Escalating stress levels involved in the professional life along with the inconvenience of traveling have lead to the need for amenities in residential projects and thus the feeling that a home should be more than just a place to arrive after work, a personal haven where you can do what you want and enjoy it in the best possible way. These 1 & 2 BHK flats in Talegaon offer all of this and more.
There is a beautiful landscaped garden with a jogging track, elegant walkways, green lawns and flower beds, an Amphitheatre, Children's Play Area,

Clubhouse equipped with a multi-purpose Hall with pantry and Gymnasium for the fitness freaks

Environment-friendly features such as wet garbage disposal through an organic waste converter, rainwater harvesting and Solar water heater system
If you have been looking for some affordable housing project around Pune, Neelaya is the place to bet your money on. Where else would you find 2 toilets even in a 1 BHK? With all sought-after amenities in place, scenic surroundings and light on your budget, book your flat in Neelaya now!